These subseries come with GPS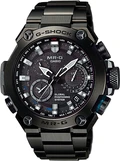 G-Shocks use GPS for three main purposes:
time + location
activity tracking
navigaton


Time + Location
GPS is used to get information about your position and the time at your position. This information is used to set:
the correct time zone
set the time
set the daylight saving status
set the sundown and sunrise time

Activity tracking
GPS is used to track your activities. Depending on the watch different data can be displayed afterwards.

Navigation
GPS is used to navigate a predefined route or to navigate to a fixed point.